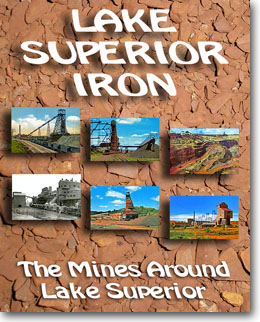 LAKE SUPERIOR IRON: A trip back to the iron ore & copper mines of the Lake Superior region through postcards, photos, video & film. The video spans the period from the late 1800s to the 1970s and tours the Vermilion, Mesabi and Cuyuna Ranges in Minnesota, the Gogebic and Menominee Ranges in Wisconsin/Michigan, the Marquette Range in Michigan and the Michipicoten and Atikokan Ranges in Ontario. Also shown are beneficiation plants, draglines, loading shovels, mining railroads and underground mining scenes (including a video trip down into one).
The video contains 566 images, video and 8 MM film, comprehensive narration on the mines, table of contents and is 52 minutes long. The video is on DVD and the original photos (with statistics on each mine) are on a self-starting CD that is like looking through a book on a computer which works in PCs (WIN 2000/XP/Vista/7) or Macs. The images can be printed out. US$19.95 + US$16 international shipping
| | | |
| --- | --- | --- |
| | | "Lake Superior Iron" |
BACK to "Mine-to-Mill Series" web page
---
---
Return Policy: Any defective DVD will be replaced upon receipt of the defective item. May have problems in some old DVD players. While a defective DVD will be replaced, there are no monetary refunds since the item could just be copied.
Privacy Policy: PrairieWorks does not sell or distribute customer e-mail addresses, mailing addresses or phone numbers to anyone and never will. We dislike spam and telemarketers as much as anyone else.
---
PrairieWorks
1077 Conway Street
Saint Paul, Minnesota 55106 USA
(651) 793-2373
E-MAIL