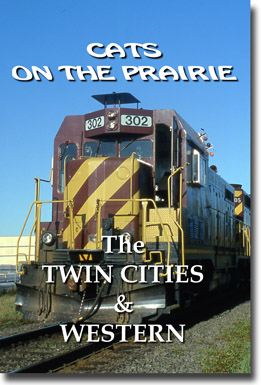 CATS ON THE PRAIRIE - THE TWIN CITIES & WESTERN RAILROAD: Twin Cities & Western's rare Caterpillar-powered Geeps and a CF-7 slug ply the ex-Milwaukee Road mainline from the prairie to the big city, moving agricultural products for river or rail interchange in the Twin Cities. In addition to its own tracks, the railroad also rides the rails of the BNSF, Canadian Pacific, Minnesota Commercial and an ex-M&St.L line.
The focus is on the railroad's six operations: three are in the city, of which two are on the ex-Minneapolis, Northfield & Southern line; and the others are in the countryside. The westernmost one is in the scenic Minnesota River valley. A sugar beet processing plants is also visited. The video concludes with a 25-minute look back on the railroad's first decade.
The video is 97 minutes long. US$19.95 + US$16 international shipping
| | | |
| --- | --- | --- |
| | | "Cats on the Prairie" |
BACK to "Midwest Railroads" web page
---
---
All the videos are on DVD (NTSC format, PAL not available). May have problems in some old DVD players.
Some of the DVD videos have a CD-ROM that has photos and publications. It is self-starting and is like looking at a book on a computer (PC & Mac).
Return Policy: Any defective DVD or CD-ROM will be replaced upon receipt of the defective item. While a defective DVD or CD will be replaced, there are no monetary refunds since the item could just be copied.
Privacy Policy: PrairieWorks does not sell or distribute customer e-mail addresses, mailing addresses or phone numbers to anyone and never will. We dislike spam and telemarketers as much as anyone else.
---
PrairieWorks
1077 Conway Street
Saint Paul, Minnesota 55106 USA
(651) 793-2373
E-MAIL