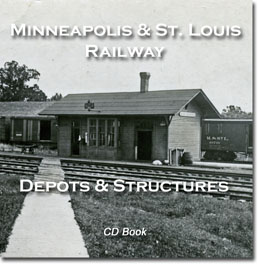 MINNEAPOLIS & ST. LOUIS DEPOTS & STRUCTURES: A look back on many of the depots and structures of the Minneapolis & St. Louis Railway through 138 images from photos, slides and postcards. There are historic views of these structures as well as how many of them look today, sometimes paired with the former. The structures are grouped by state. Also on the CD is information on the existing structures and often with GPS coordinates.
The presentation is like looking through a book on a computer. The CD-ROM works in PCs (WIN 2000/XP/Vista/7) & Macs and is self-starting. The images can be printed out. US$15.95 + US$15 international shipping
| | | |
| --- | --- | --- |
| | | "Minneapolis & St. Louis Depots & Structures" |
BACK to "Midwest Railroads" web page
---
---
All the videos are on DVD (NTSC format, PAL not available). May have problems in some old DVD players.
Some of the DVD videos have a CD-ROM that has photos and publications. It is self-starting and is like looking at a book on a computer (PC & Mac).
Return Policy: Any defective DVD or CD-ROM will be replaced upon receipt of the defective item. While a defective DVD or CD will be replaced, there are no monetary refunds since the item could just be copied.
Privacy Policy: PrairieWorks does not sell or distribute customer e-mail addresses, mailing addresses or phone numbers to anyone and never will. We dislike spam and telemarketers as much as anyone else.
---
PrairieWorks
1077 Conway Street
Saint Paul, Minnesota 55106 USA
(651) 793-2373
E-MAIL