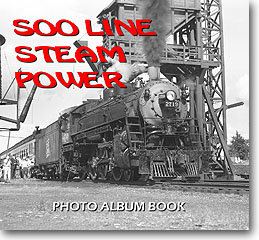 SOO LINE STEAM POWER:The Soo Line, being primarily a granger road, had an uncomplicated steam locomotive fleet with lots of Mikados and Consolidations. Competitive pressure on the Chicago-Twin Cities route brought in the Mountains and Northerns. The one Decapod found itself in Ashland, Wisconsin ore dock service. Pacifics and Ten-Wheelers were sufficient for passenger service.
Almost all of the 149 photos were scanned from original 2x4 negatives. The time period is mostly the mid-to-late 1950s and in locations such as Shoreham Yard, Fond du Lac, Wisconsin and Enderlin, North Dakota. There is also railfan trip with Pacific #2719. The CD works in PCs (WIN 2000/XP/Vista/7) and Macs. US$19.95 + US$15 internatiomal shipping
| | | |
| --- | --- | --- |
| | | "Soo Line Steam Power" |
BACK to "Midwest Railroads" web page
---
---
All the videos are on DVD (NTSC format, PAL not available). May have problems in some old DVD players.
Some of the DVD videos have a CD-ROM that has photos and publications. It is self-starting and is like looking at a book on a computer (PC & Mac).
Return Policy: Any defective DVD or CD-ROM will be replaced upon receipt of the defective item. While a defective DVD or CD will be replaced, there are no monetary refunds since the item could just be copied.
Privacy Policy: PrairieWorks does not sell or distribute customer e-mail addresses, mailing addresses or phone numbers to anyone and never will. We dislike spam and telemarketers as much as anyone else.
---
PrairieWorks
1077 Conway Street
Saint Paul, Minnesota 55106 USA
(651) 793-2373
E-MAIL