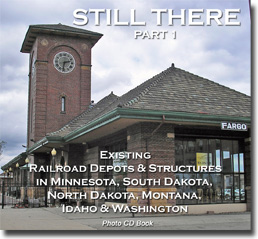 STILL THERE PART 1: While passenger depots and steam locomotive roundhouses have largely disappeared, there are still many reminders of that "golden era" scattered across the country. The book takes a look at 624 depots, freighthouses, roundhouses, significant bridges and other railroad structures that still stand in Minnesota, North & South Dakota, Montana, Idaho and Washington. These structures were observed in the 2006-2014 time period.
Also on the CD is information on how to find these structures, including quite a few with GPS coordinates.
The presentation is like looking through a book on a computer. The CD-ROM works in PCs (WIN 2000/XP/Vista/7) & Macs and is self-starting. The images and information can be printed out. US$19.95 + US$15 international shipping
| | | |
| --- | --- | --- |
| | | "Still There Part 1" |
BACK to "Railroad Depots by State" web page
---
---
The CD books are self-starting and are like looking at a book on a computer (PC & Mac).
Return Policy: Any defective CD book will be replaced upon receipt of the defective item. While a defective CD book will be replaced, there are no monetary refunds since the item could just be copied.
Privacy Policy: PrairieWorks does not sell or distribute customer e-mail addresses, mailing addresses or phone numbers to anyone and never will. We dislike spam and telemarketers as much as anyone else.
---
PrairieWorks
1077 Conway Street
Saint Paul, Minnesota 55106
(651) 793-2373
E-MAIL